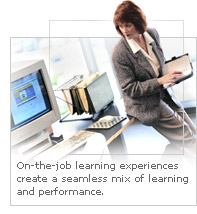 Web-based training (WBT) offers distance learning and testing on demand via the Internet. It's an ideal way to deliver multi-media enriched training to individuals anywhere, at anytime, while still allowing for easy content updating. Another benefit is that learners' progress can be tracked and stored in a database for evaluation.
Events Online produces highly effective WBT and instructor-led webinars that meet the needs of our clients including; Hewlett-Packard, Southern California Edison, ABA (American Banking Association), NASA and more.
See our training services portfolio.
"Events Online understood our product needs and responded with timely and highly professional course designs for our web-based training curriculum."
Larry Bograd, Creative Director
Intellinex